Miss Nepal contest is definitely improving in terms of the quality of contestants who are tall, beautiful, and confident were the women participating this year. When I entered the venue, I thought it will be well managed but I was literally in a shock to see the chaos. My eye caught sight of former Miss Nepal 2000, Usha Khadgi and I could see nothing for a while. Thanks to my brother, I was provided with a Special Pass in the VIP row. As, I was searching for my sit I was interrupted by a women "Excuse Me", she said as I was on her way. I gave her some space but I who was she? She looked like some model from Fashion TV with a noticeable loud eye make-up and her hair pulled up almost a feet high over her head. Later I realized she was Sahana Bajracharya, Miss Nepal 2010 1st runner up. I along with my friends, sat next to her. However, the never-ending flaw still prevails in the so-called glamorous pageant of the Year.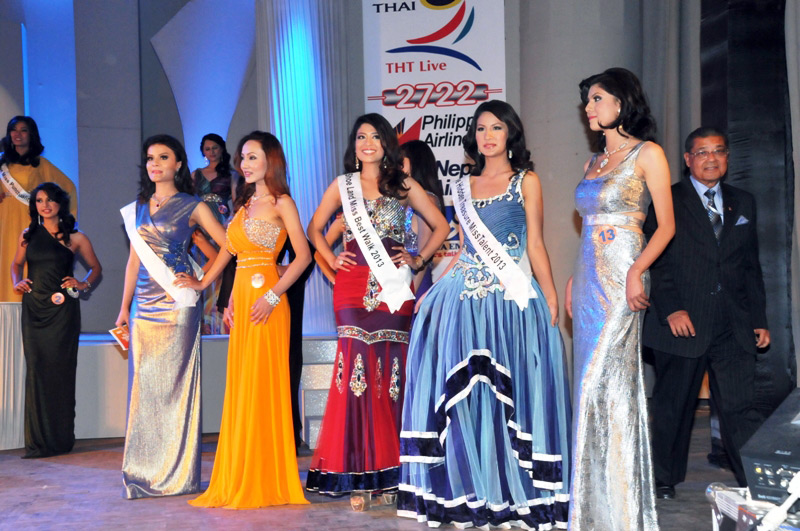 During the introduction round, there was some technical problem as always. The voice over for the contestants didn't seem to work. It favored only few contestants. The venue itself was quite small as the judges' seats were so close to the VIP row.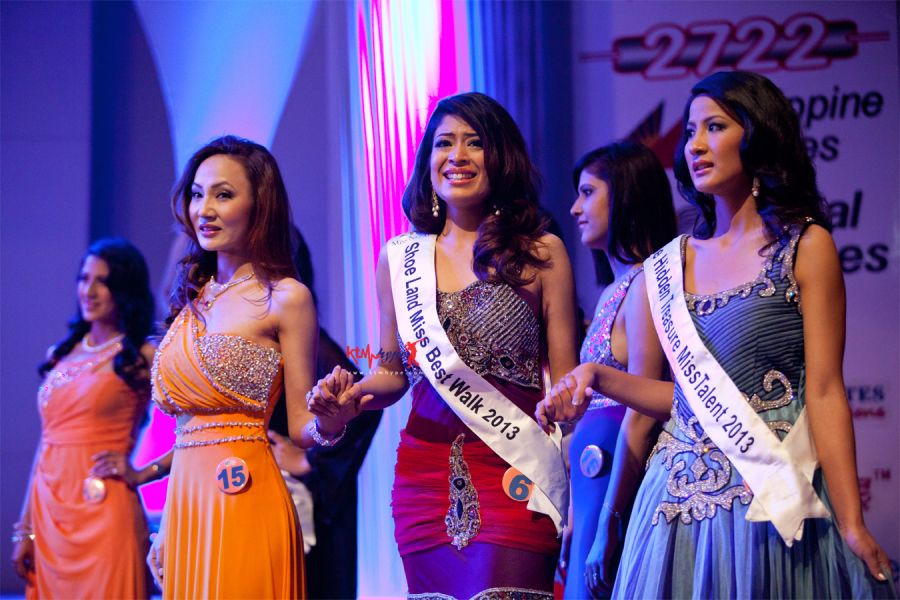 The biggest blunder: we were sitting on the fourth row (centre) from where we could see outside the main door too. In the middle of the event, we looked at the door as we could see a tall beauty wearing a crown having some discussions. She was Nagma Shrestha Miss Nepal Earth 2012 along with Subechya Khadka Miss Nepal International 2012 trying hard to carry her clothes yet managing to ask the volunteers about where she was supposed to sit. To make things worse, the volunteer came inside, looked at the seat, went outside and told her where her name was placed. She still looked bewildered and requested him to escort her. That was a pitiful moment and the more pity was when she entered and sat on the front row, there were volunteers showing their back (standing in front of her) and gossiping. Were they not supposed to have a proper seat??? Literally I felt so sorry for her, a tall woman with such a big gown in the front row with congested seat? One of the top 5 finalists of Miss Nepal 2012 and the winner of Miss Global 2012, Neelam Chand was sitting on one of the three special seats next to the judges but she was never introduced. Right after the event, the contestants who didn't got selected for top 5 were wondering here and there to find a proper place and even no one bothered about the judges too.
Malvika Subba, certainly was looking gorgeous and was the emcee for the show who seemed too hyper while dealing with the media afterwards & the media person were no less either. They were literally asking some silly questions like "Shristi Shrestha Top 30 ma pugnu bhayo, tapai top 20 ma pugchhu bhanna saknu hunchha ahile?" She was yelling that the winner has to leave for live news, that could be one reason for her to wrap up the show early. But definitely, someone like Malvika is required to settle the journalist of zero calibers.
The most hyped event certainly is losing its charm. I strongly believe that in national events like Miss Nepal, the load shedding should be called off or it could be live telecasted in channels that aren't disturbed by the news. At, the moment of announcing the winner. I was getting random text from few of my friends telling me "are you guys still watching ads while we were actually watching the winners". Besides, the typical tradition of calling out the representatives from the sponsors when giving out every single award is not only time-consuming but also highly lame- when a man with almost zero personality came on stage to adorn the sash for Miss Personality, he set off a laugh riot.
Well every beauty has their own purpose. We already have got our three winners who will soon be leaving to represent Nepal in the international Pageants. Let's not criticize Ishani for not being everyone's cup of tea; let's not compare her with shristhi Shrestha as well because we cannot compare people. Even Malina Joshi was termed as one Ugly Duckling who now has bounced back as a style dive and was able to leave mark in Miss World as Top 30 finalist in Beauty with a Purpose. In the end, we have to stay united and support the new lady as she will represent Nepal in the world just like Shristhi did a year back.
I literally found Shristi Shrestha more confident and at ease while delivering her farewell speech than the time she was announced the winner. She was shining like a gem in her Red gown and certainly was the most beautiful women in the whole auditorium. On an emotional note, she said, "One minute I'd be attending a high profile event and the next, I'd be in a place where the nearest health post is four days away". She added that the support she received during the participation in the Miss World proves that Nepalis stands for each other and hope same continues in days to come.
As far as the winner is concerned, we only have two opinions. We want a tall, slim, beautiful lady standing out in the crowd with every possibility to bring the blue crown home or we can hope for a young, literate, confident girl proving herself that external beauty can be achieved but it is difficult to be beautiful from the heart. Right after the pageant my friend commented me that I will be criticizing the winner again but this time I will not because she certainly deserved to win. Though I still agree with people that there were some other beautiful ladies but we should not forget that it's all about the beauty with a brain.
Written by Roshan Chamling Rai